Do your site workers need a comfortable space to take their smoko and lunch breaks? Our portable sheds are the perfect solution. Our lunchrooms for hire look professional, are hard-wearing to meet the demands of the toughest construction site and are maintenance-free.
With insulated panel walls and ceilings, our relocatable lunchrooms will keep your staff cool in summer and warm in winter. They come on a sturdy steel base frame, have sliding aluminium windows, durable vinyl floors and secure deadbolted doors. Add security grilles to your windows for additional safety.
Your team will enjoy taking their break in a spacious room built to comfortably fit up to 18 people. With built-in tables and bench seats, sink benches and zip hot water units, these transportable sheds are designed to give you and your workers a place to eat lunch or enjoy a cuppa.
Available for delivery in Auckland, Tauranga, Hamilton and anywhere north of Gisborne and Taranaki, our portable shed rentals are the perfect way to offer your hard-working site staff a pleasant place to take a break.
If you are looking to rent a high-quality, practical and secure relocatable lunchroom, talk to Just Sheds today.
PORTABLE SMOKO / LUNCHROOM
SPECIFICATIONS
PORTABLE SMOKO / LUNCHROOM
SPECIFICATIONS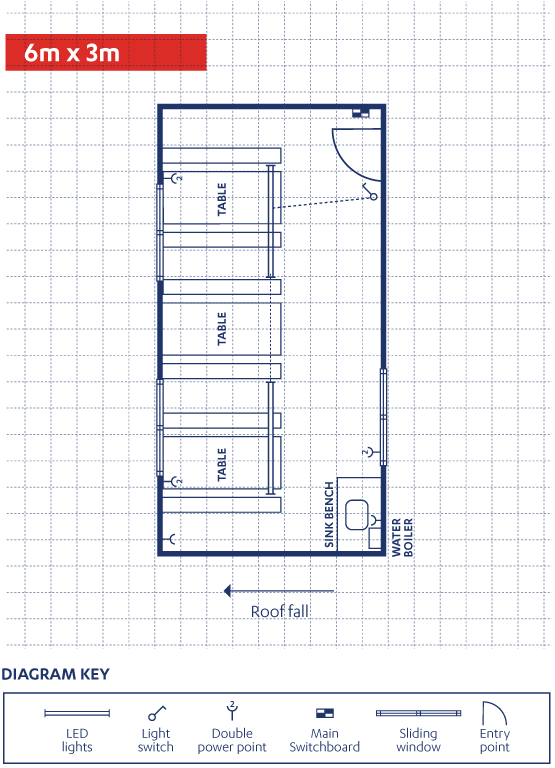 LUNCHROOM FEATURES
Our lunchrooms feature a strong steel base frame with insulated panel walls and ceilings to keep you warm in winter / cool in summer. The lunchrooms also feature vinyl flooring, sturdy doors with deadbolts, and aluminium sliding windows with optional security grilles. Built-in tables, bench seats, sink benches and zip hot water units are also included to suit your requirements. They have built-in lights and are easy to connect on-site.
SIZE OPTIONS
Our portable buildings are available in just about any size:
• 6m x 3m (18 person)
• 7.2m x 3m (18 person)